Gift Cards
Welcome to the Gift Card Revolution!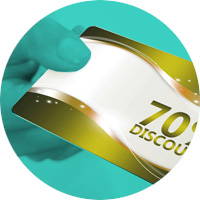 The Abtek gift card program leverages the power of your brand to acquire new customers, encourage repeat visits and build customer loyalty. Follow a few simple steps and you will be on your way to higher profitability in a matter of weeks!
With Abtek's Gift Card programs, you can offer your customers stored value cards including gift, pre-paid, merchandise return, loyalty and promotional cards quickly and easily. You'll find the advantages are significant. And FlexCache is an end-to-end stored value program that features everything you need to issue spending credit-all in one package.
Increased Profitability
FlexCache can help you maximize the profitability of your customer base because customers consistently purchase more than the value of the card. A stored value program also requires less operational management than a paper based program, leading to a reduction in operational costs.
Expanded Customer Base
Because the recipient of a gift card, prepaid card, merchandise return card, loyalty, or even promotional card is often different than the purchaser, you'll have an increased opportunity to establish new customer relationships while rekindling old ones.
Improved Brand Opportunities
FlexCache is a great way to promote your business to consumers because stored value cards are custom designed with four-color process printing to complement your company's image.
Enhanced Security
At Abtek, we are committed to providing customized products and service solutions. Our FlexCache program furthers this commitment by providing you a customized stored value program of your own.
Flexible Transactions
FlexCache is easy to implement because stored value cards can be issued and activated at the time of purchase. Cards can be pre-dominated with a specific amount on the face of the card, or they can have no preset value so you define how much value to place in your customer's account at the time of issuance. Value can be added and deducted from a card any time your customer uses it.
Expert Training
Abtek is your single source for support. We have dedicated relationship managers who will provide you with expert training so you and your associates can maximize the profitability of your stored value program.
Comprehensive Reporting
Abtek provides comprehensive reporting tools so you can easily manage your stored value program. Abtek provides daily, weekly and monthly reports to assist in reconciliation and monitoring transaction activity. Your corporate headquarters will have access to reports, via the web, that help you analyze stored value transaction activity and your outstanding liabilities across your entire business. ACH services and inter-store settlement reports are also available for franchises.
Increased Customer Support
Your customers will also benefit from FlexCache because they can access their account balances by calling a toll free Interactive Voice Response (IVR) phone number, 24 hours a day, 7 days a week.
Minimum Investment
Because of our industry expertise and our vast partnerships with VARs, set-up is simple and in many cases can be done using POS equipment you already own. We make it easy for a stored value program to be integrated into your existing POS system.
Marketing Support
Abtek makes it easy for you to sell stored value cards because we will work closely with you to develop the strategies you need to increase your revenue and maximize your brand. Available services include card design and production, point-of-sale collateral development, and unique consumer and business promotions.
Reliability
FlexCache offers you the same great reliability that you're used to with ABTEK's dependable credit card processing.
Total Gift Card Solution
Abtek's FlexCache program is a total solution for your proprietary stored value needs. By providing full-service customized stored value programs, help desk support, database maintenance and transaction processing and reporting, FlexCache allows you to focus on what you do best - running your business.

To place an order or for more information about how your business can benefit from the Abtek Gift Card Program, contact us or call us at: 1-800-544-9145