Tablet Solutions
Turn your iPad into the world's most affordable business management solution.
GlobalBay
A flexible, convenient, modern-day register, and a powerful business-management solution. Pair with mobile device, PIN pad, or counter top solution to accept all payment types, including EMV and NFC.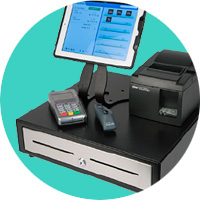 GlobalBay Solution
Key Features
Cloud based solution
Export to Quick Books
Cash Drawer, printer and scanner optional
Supports multiple locations
Manage inventory, Appointment booking, Time clock and Real time reporting

Manage your business from anywhere.
Schedule customer appointments, run reports, create employee schedules, complete sales transactions and manage inventory —all from the cloud-based web portal.
Access your sales records from anywhere.
Look up customer information quickly.
View all sales, inventory and financial data right from the POS dashboard.
Schedule appointments and view daily sales information from an iPhone.

Insights into sales, employee productivity and inventory.
Comprehensive business tools show you which products are selling, which aren't and provide the data necessary to make the right decisions right at your fingertips.
Access store data anytime, anywhere, on any iOS device.
View daily, weekly or monthly financial summaries.
Measure the effectiveness of pricing and promotions.
Easily export financial data to QuickBooks to save time and improve the accuracy of data.

Monitor store performance in real time.
Make the right decisions at the right time with access to real-time data on sales, inventory, productivity and more.
View real-time sales data, inventory and other metrics at a glance.
Track your entire inventory by manufacturer or product category.
Identify sales trends, patterns and spot potential concerns.
Make informed decisions that can impact your business on the fly.

Put your data to work anytime and anywhere.
Real-time insights into your business that can impact your bottom line. Make business intelligence your competitive advantage. Our real-time dashboard gives you the ability to monitor store performance and make better decisions based on real shopping behavior and consumer demand. Gain instant access to sales data, inventory numbers, productivity and many other insights, anytime, anywhere, over multiple devices.

Easy to use and learn.
A turnkey iOS application that is simple to install, learn and use, that produces outstanding results.
Secure and safe.
Secure encryption and 24/7 support ensure the safety of your customers and your business.
Easily exports to QuickBooks.
All the accounting and reporting data you need right at your fingertips.
Works in multiple locations.
1 or 100, our application supports multiple stores, devices and employees.