The old school paper gift certificates not only look unprofessional, but they can be easily damaged or lost and their uses are limited. Today's "stored value cards" have the capability to do so much more. Here's a look at how this modern gift card system works.
What is a Stored Value Card, Anyway?
A stored value card is a plastic card that looks and functions similarly to a typical debit or credit card. It's easy to use, fits nicely in consumers' wallets and can have a number of different functionalities, including:
Gift Cards + Prepaid Cards – Today, gift cards are often a gift of choice, giving the receiver the freedom to pick out anything they'd like from a given store. When purchasing a gift card, the buyer can determine the amount of money they'd like to be loaded onto the card, making it an ideal, customizable gift option.
Merchandise Return Cards – Allowing customers to return merchandise to your store is great for customer satisfaction, however, it can lead to lost profits if customers are regularly taking advantage of the system. One way that merchants can curb this problem is by offering "store credit" cards, or gift cards that are loaded with the value of the returned item, instead of a full cash refund. This helps to ensure that the money spent in your store stays in your store.
Loyalty Cards – Membership cards, frequent shopper cards, and customer discount cards all fall into the loyalty card category. These types of cards help to keep customers coming back by offering some sort of reward for their patronage each time they swipe their card at your register.
The Perks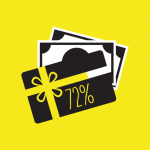 So, why should your business jump on board with a stored value card program? There are a number of reasons, but one of the most convincing is the fact that it can significantly increase your profitability. According to GiftCards.com, 72% of consumers spend more than the value on the gift card. That means that you're making the sale on the gift card, plus more! On top of that, you may be bringing in consumers who might not otherwise frequent your business if they hadn't received a gift card.
The Future of Gift Cards
It won't be long before plastic gift cards become a thing of the past. With the increasing popularity of digital wallets, more and more consumers are demanding digital options for spending. But, in the meantime, the important thing is to provide your customers with a reason to return—and a stored value card could be that reason.
Abtek's FlexCache program features everything businesses need to issue spending credit, from database maintenance to transaction processing to 24/7 helpdesk support. To learn more about Abtek's stored value card program, visit our website or call us at 1-800-544-9145.
Share and Enjoy